It's coming for me. Rearing around the bend like a freight train. I can't run. I can't hide.  All I can do is curl up in a ball and accept my fate of crows feet, fiscal responsibility and mythical two-day hangovers.
Tomorrow, I will be turning 30.
Ok- so maybe I'm overreacting a little bit. There are some good things about turning 30- like never having to wear cut-off jean shorts or attend a music festival again. Plus, I've picked up a few nuggets of wisdom along the way. Here, in no particular order, are 30 things I've learned in 30 years here on earth.
************************************************************************************************************************
1. Never trust anyone with bad eyebrows. NEVER.
2. No juice cleanse is ever worth it
3. You can't change genetics. The body you're born with is going to be the body you have to deal with for the rest of your life, +/- a few pounds…. No matter how many juice cleanses you (don't) do
4. Speak up in meetings. Even if you think you have nothing to say, find something so people can hear your voice and know that you're there
5. The 5 minutes between when you wake up and when that sweet, sweet caffeine hits your veins are invariably the worst of your day. Soldier through, and it can only get better.
6. Take the job/opportunity you feel unqualified for
7. Jennifer Anniston movies are always going to get approximately 37% on Rotten Tomatoes.
8. Being able to do your own winged eyeliner is a highly valuable and transferable life skill
9. Time spent watching The Bachelor is never time wasted
10. Listen to your mama about who you let into your life. She can always sniff out the bad seeds (and the good ones) long before you can.
11. Don't worry if you suck at driving. Google is inventing self-driving cars by 2017 anyway. Along with hoverboards, automatic tooth flossers, and that machine that spits out food from the Jetsons.
12. Going to bed at 10pm is never a bad idea.
13. You CAN learn to love (or at least not loathe) exercise if you force yourself to do it enough
14.  If you realize you're not smelling so hot on the way to a fancy event and the only thing around is a bottle of Febreeze, it will do as a makeshift deodorant (I may have just learned this last night.) Ain't no shame in smelling like your aunt Marg's spare bedroom.
15.  Wear sunscreen. Every day. Even in a snowstorm. Even when you're sitting on your couch watching an Extreme Weight Loss marathon. Seriously. The sun is not your friend
16. Know your limits and when to say no. If you have a hard time with that, here are some GIFs you can use as inspiration: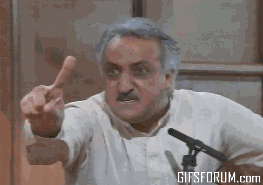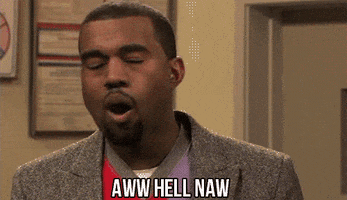 17. Family is BAE. Even when they're acting a fool and driving you crazy. Protect them always and never make excuses for them
18. Having thin hair is not a death sentence in this wonderful world of cheap and plentiful hair extensions
19. Sometimes you just gotta admit you're the problem.
20. Don't waste your time looking for the next best thing
21. You will have the frequent occasional Low Self-Esteem Tuesday. Drink a big glass of red wine, call a good friend and sleep it off.  Tomorrow will be a better day.
22. Patience is a virtue and one not many people possess. Having it will set you apart
23. Never let anyone see you sweat. Except at hot yoga cause ain't no way you're avoiding that
24. Embrace your quirkiness (I don't know, maybe even start a blog about it)
25. Demand more for yourself. Kick anyone to the curb who isn't giving you 150%
26. No one's life is ever as good as it seems on Instagram
27. Being vulnerable once in a while is OK
28. Nutella makes everything better
29. Don't be scared to take the occasional risk. Fortune favors the bold (although, mostly just rich people)
30. You can always find the humor in everyday life- you just need to look for it
Question of the day: Anything to add to my list?