I  moved in with my boyfriend recently, and for the most part, it's been great. Not only have the number of nights I've spent watching Teen Mom and crying into my Haagen Dazs drastically decreased, he's also teaching me how to be more of a real-life adult. He cooks, he cleans, he flosses…. he even uses that fancy glass Tupperware that only grown-up people use.
I know, back off ladies.
Cohabiting in a 500 square foot space has not been, however, without its challenges. There was that time, for example, when I used the "special TV cloth" to wipe down the counters (SHAME). Or his continued refusal to accept the fact that books are like my children; they cannot simply be "given away".
The biggest issue hands down, however, has been storage. Specifically, our shoes. As per my birthright as a female, I've got a lot of them. Surprisingly, he's got even more (I try not to be too concerned about this). In an effort to get ahead of this problem and save our neighbors from experiencing the wrath of a full-on domestic, we purchased this over-the-door shoe rack from Bed Bath and Beyond.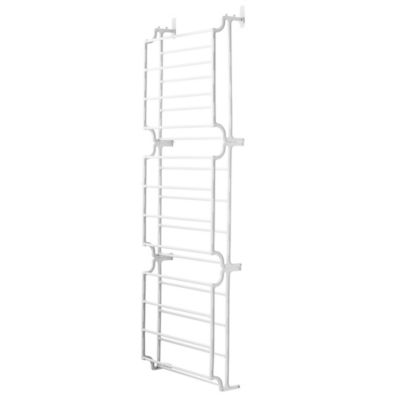 The installation couldn't have been easier- we hung the rack over the door, loaded all of our shoes on it, and did a little high five/victory dance.
We were feeling pretty smug- until we realized the fatal flaw in our design. The rack was not fully secured to door, which meant that every time we opened and closed it, one or more shoes would fall out onto the floor- or worse, our waiting heads. After a solid two days of being pelted by rogue Nikes, we were both beginning to see stars – Sylvester and Tweety styles.
Obviously we needed a solution.
Luckily, we discovered some tiny holes where you could insert screws to secure the rack to the door, so my boyfriend immediately ran out to the hardware store to pick some up. (He literally ran. To Canadian Tire.  Between periods of a Montreal Canadiens game. This story would only be more Canadian if he'd snowshoed there.)
He came home, sweaty but determined, only to realize the screws he had purchased were too big. Dejected, he settled in to watch Coach's Corner, vowing to tackle the problem the next day.
Since I'm generally content to let household chores linger, I thought little of it, carefully sidestepping the pile of shoes on the ground, telling myself he would take care of it. I even used the discarded shoes as inspiration for this impromptu photo shoot of my Nikes.
But then, I received this fateful e-mail:
Hey babe I'm pretty sure Canadian Tire won't have the screws we need. Any chance you could  hit up Home Depot on the way home? It closes at 7. You know what we need – a really narrow screw that's long enough go through the plastic space and into the door. No worries obviously if you can't swing it.
I took a long, hard look at the the screen. A hardware store? He wanted me, to go to a hardware store? Well, I guess this is my life now, I thought. Home Depot. Shoe racks. Maybe we'll hit up Bed Bath and Beyond this weekend.  Have a nice little Saturday.
The last time I had been in a hardware store was in grade 6, and I have been trying to repress it ever since. My parents were building a new house and insisted on dragging my ass around for every piece of the torturous process. I remember sneaking off to a quiet corner in the light fixtures department to read my book, while my mom and dad debated extensively between two identical pieces of crown moulding in the background.
Needless to say, I was less than thrilled about the idea of returning.
Since I was late leaving work, Home Depot was already closed- so I googled around and found another independent hardware store in the area that kept late hours. Let's just call it "Studleys".
The bell jingled as I walked in the door, and I was immediately overwhelmed by the labrynthian aisles and 10 foot high ceilings- each filled with implements I couldn't identify if my life depended on it. I worried I'd missed a turn and somehow ended up in Diagon Alley (<— lame Harry Potter reference).I jiggled a few screwdrivers, just to make sure they weren't trap doors.
"Can I help you?"  asked a skinny, 40-ish man with serial killer glasses and a non-ironic moustache. He wore high-waisted pants and a polo shirt; and bore a striking resemblance to Kip from Napoleon Dynamite, only slightly creepier.
"Oh, I was just looking for some screws" I replied, instantly regretting the "that's what she said" opportunity. Kip remained unphased. "What kind of screws are we talking?" he asked.
He listened intently as I explained my problem, stroking his chin, and lisping "Yes, Yesss" at random intervals.
Hollow door. Miniscule screws. I could tell from his furrowed brow we had a real doozy on our hands here.
"Well, I do have these small screws, but you probably won't have the right screwdriver for them." he mused,  furrowing his brow even deeper. Actually," he said, a proverbial light bulb going off above his head, "What about double sided tape? Have you tried that?"
"No," I said, surprised, "You think that would work?"
"Oh sure," he said, "That stuff is like superglue. We have some here I can sell you"
"No, that's ok,I uh…. have some at home," I replied,  failing to mention that it was the "Hollywood" variety, used it to guard against "wardrobe malfunctions".
"Thanks so much!" I exclaimed "You've really been a big help"
"No problem," he said, interlacing his fingers behind his head and leaning back on his heels. "I just love problem solving, you know? That's kind of my thing. I just want to help people." I noticed that Kip was moving precariously close to my personal space zone.
"Yeah….ok" I replied awkwardly, backing out of the store. "Well, thanks again!"
I walked home feeling satisfied with myself. Not only had I successfully entered a hardware store, I had also found a cheap and easy solution. With the exception of eavesdropping on my neighbours, never before had I invested so much energy in a domestic project.
I put my boyfriend to work as soon as he got home, double-sided taping the hell out of that thing. Kip had advised us to let the tape cure overnight, and we awoke the next morning like two kids on Christmas- anxious to check if our experiment worked. We jiggled it a little, and it seemed solid.
Cue second high-fiving sequence.
Double sided tape! It was so simple! WHY had we not thought of this before! Thank you, Kip!
Back went all of our shoes, and for a few days, everything worked fine.
………….Until it didn't.
Slowly the  illustrious tape began to give way, releasing its tenous hold on our footwear. Soon I was seeing stars again, and found myself defeated, standing amongst a pile of discarded pumps, sandals and golf shoes.
In a curious case of life imitating art, mine was beginning to resemble a prolonged scene from the movie "GroundHog Day".
Damn you Kip and your "problem solving!"
I began to worry that this delinquent shoe rack was some sort of cautionary metaphor for our relationship. Were we, too, destined to fail? To come unglued, to fall apart, no matter what we tried?
No, I decided. I am not going to go down that easy.
So I marched my ass back to Studley's- this time with a purpose. I blew through the door, past the walls of unfamiliar tools, and slammed my roll of Hollywood tape down on the counter.
"This? I asked? THIS was your solution?"
"I….I don't know what that is?" replied Kip, staring confused at the roll of pink and purple adhesive.
"Uh, double sided tape?" I spat "your big solution to my shoe rack problem? Well, it didn't work at all, and now I'm back to square one. How you gonna solve this one, problem solver?"
Kip looked taken aback. It had probably been some time since he had seen this much female aggression inside the walls of Studley's. A part of me felt badly; but in my mind, he and his dusty little shop of horrors had become the sole authors of my misfortune. There was no turning back now.
"Whatever, it doesn't matter." I continued, "Just give me those tiny screws and the screwdriver I need for them. How much is it?"
Flustered, he grabbed the necessary implement "Uh… three fifty" he said.
"Three hundred and fifty dollars?" I choked, trying not to lose my cool.
"No, three dollars and 50 cents?"  He replied, looking at me like I had three heads.
"Oh ok," I sighed. "That I can do".
I walked out feeling like I had won a small victory. Ordinarily, I would have given up on the whole thing; tossed the errant piece of plastic down the garbage chute and lived out the remainder of my existence in a sea of disorganized footwear. Not this time, though. The new, domesticated BreezyK was triumphant.
I took home my bounty, and together, we nailed the rack into the door until it was as secure (and by "we" and "together", I mean I ate FroYo and provided colour commentary while he did all the work).
Although our relationship with the shoe rack is in a state of détente right now, we're well aware that this could change at any moment. There are one or two screws struggling to come loose, and every few days we have to nail their delinquent asses back in.
If I were a contestant on The Bachelor, I would draw some sort of analogy here between our shoe rack debacle and the continued effort it takes to maintain a stable and loving relationship… But I'm not. So I won't… but… you get the picture.
Question of the Day: Have you had any household projects from hell?